Originally Published 2011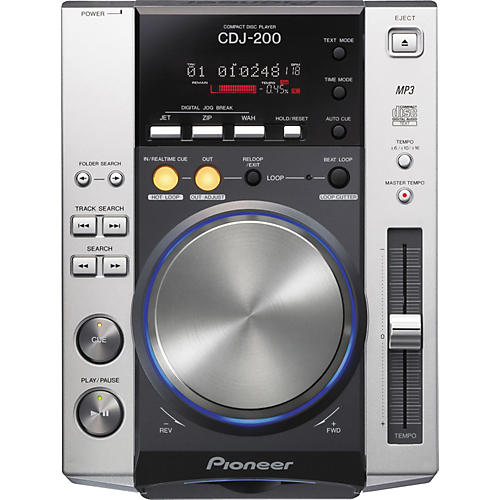 Pioneer CDJ-200 Pro CD/MP3 Player
Though this player is deemed as "entry level" in the world of professional DJing, some think that's an understatement. It has most of the common features, but only DJs that don't scratch will love the CDJ-200.
The unit is built durably and contains oil damping making it shock resistant. One can pick the turntable up and shake it while it's playing and it won't skip. It is light weight and fits nicely into a setup with two turntables. It contains a headphone jack enabling a user to listen to it play without powering up their entire system.
This player has unbeatable auto cueing plus auto and manual looping. After one user testing two looped tracks at 128p, they both were synched through BPP and tempo which are both very accurate. Manual looping even offers more precision. The BPM counter on this player is more accurate than that of most other players.
As an MP3 player, this unit works extremely well. By recording songs onto MP3 format, you can save yourself the labor involved in lugging in several cases of CDs to gigs. MP3 tags are fully read making this another handy feature. Some played it nonstop for up to 8 hours without problems. Although it plays VBR files, it lacks compatibility functions. Hence, when burning files for it, make sure they're not in that format.
Experienced DJs say this player is superb for its unbelievably low price ($400 or less). The turntable is easy to operate and its users would recommend it to professional DJs. A few have even purchased two or more of this model for their business or personal use.
Denon DNS1200
Retailing just over $400, the Denon DNS-1200 is great for beginner or professional DJs. It has all the common features you would want in a CDJ player, far too many to mention here. With its scratch feature, you have the sound and feel of an actual turntable with forward, reverse, and next track options.
Customers have also commented that the buttons and sliders on the DNS-1200 were conveniently arranged. One mentioned how nice it was that the power switch was located on the back to avoid accidentally switching off the unit during a gig. While most felt its buttons were sturdy, one had the play button fall off of his unit and Denon would no longer cover this repair. He said the buttons were made rather poorly and that it's difficult to replace them. Another said the jog wheel on the CD player could have been a touch sturdier.
A software compatibility issue arose as commented by Brice S. on Amazon. He said, "They work great and they have loads of capabilities. Make sure to update as soon as you get this product though, because it does have its corks. I'm giving this product 4 stars because it works great with USB and CD's, but minus one star due to some glitches while trying to hook these up to both Serato and Traktor."
It is so simple to use that you'll be up and running minutes after taking it out of the box. By inserting attachable flash drives, it can store hundreds of songs, hence reducing the need to carry numerous CD wallets around. There are frequent updates to download to make it work properly with common applications. So many that some find it not worth the hassle.
Overall, the DNS-1200 earned 4 to 5 star ratings by all who've submitted a review. Again, most would recommend this player to professional DJs or others they know.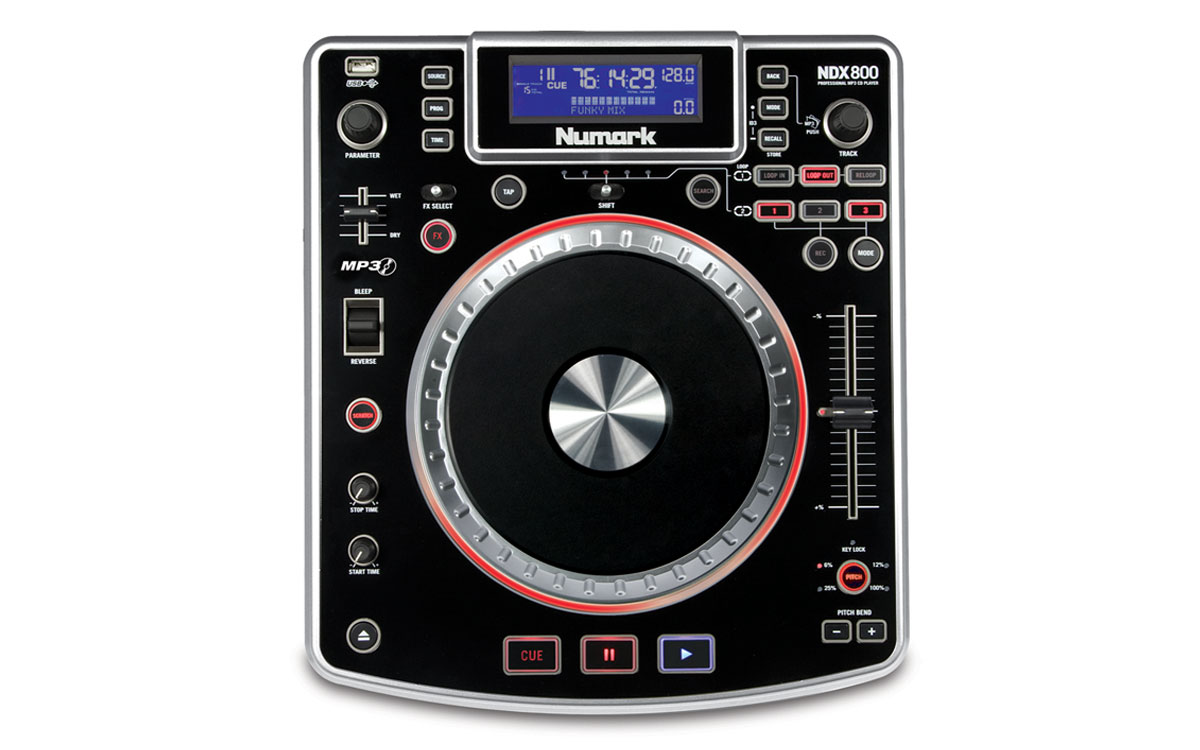 Numark NDX800
The NDX800 is a nifty little unit that is great for DJing, even in dark environments. All controls have a smooth feel and are lighted including the top of the CD loader for easy operation. Not only does it have all the standard functions, but a few extras as the "bleep" function that sounds out curse words. Best of all, it comes bundled with Traktor software, a very popular program for mixing songs. Its sound was noted to be superb by all of those who've commented on it.
Selling online starting at $400, buyers have found the NDX800 well worth the money. Though it's said to be a solid player, one user said "It was extremely fragile in irresponsible hands." This may be since the housing is made of durable plastic rather than metal. Operating it without a DJ coffin case or similar is risky since it can be easily damaged.
It's simple to search for songs or create playlists while a song is playing. Still, there is a limit to the number of songs it can handle. MP3 files can be stored in it or on thumb USB drives eliminating the need to bring along loads of CDs, but lacks the compatibility to work with an external hard drive. There have been problems when using the player with certain memory sticks or storage devices. The CD's jog wheel is touch-sensitive making mixing easy.
Nearly all users were pleased with the unit. Many of its owners received compliments on its black appearance with its backlighting. Most agree that the unit is well worth the price. Yet, one user had problems with their unit locking up or crashing several times during gigs. Some said its customer support was rather poor and hard to reach. Regarding manuals, this unit only came with a Quick Start Guide. As they say, "You can't win them all", but overall, Numark came close to doing so.
Stanton C.314
When first glancing at the C.314, you may think this is just an entry level player. Look at it closer and you'll see it has several controls which cover the basic functions and more. Its silver exterior gives it a clean look that says "I'm very easy to operate." It definitely has all the features most DJs need giving them a feeling of dominance.
ts jog wheel is a bit larger than that of most other players. It was made to simulate scratching vinyl on a turntable, but is not as rugged as the rest of the unit.   Hence, it must be handled gently. Still the jog wheel is highly responsive and finely tuned. Once you start using it, you may never want to go back to vinyl records again.
Looping and sampling on this unit are not as easy to do as on other players. These functions are rather awkward at first and require some practice, but with extra bells and whistles, the need for mixing is reduced. Those in the finer art of DJing will appreciate its finer functions.
Although it retails for $600, online dealers may sell this turntable for $400. With all its controls, full MP3 functionality, file and folder browsing, and jog wheel controlled looping and effects, this turntable may be well worth the money. Yet it is overshadowed by competitors as Pioneer, Denon, and Numark.
Gemini CDJ-600
For beginner DJs who are on a budget, you may want to consider the CDJ-600. Its compatibility with CD-Rs, CD-RWs, MP3s, and USB devices assures the basic home computer user the versatility to collect songs from various sources. The pitch bend, scratch/search effect will make scratching easy and its large jog wheel will give it the feeling of spinning a vinyl record. Its lighted controls make it easy to use in dark settings.
Nearly all users that submitted a review found it to be a superb unit for its price. While it may retail around $400, if you shop around, you may find it new or used for less than $200.
In Summary
I think all these players are so superb that it's hard to recommend one over another. It all depends on what one values most in a CD turntable. I would advise one to do their homework before choosing one. If I were to purchase a CDJ, I would either go with the Pioneer CDJ-200 or the Gemini CDJ-600, or perhaps a later model of either of these brands. I strongly dislike having to download updates frequently or have compatibility problems with memory sticks or DJ software as Traktor. Since I burn my own CDs and use MP3s a lot, but can't afford the higher priced models, I would opt for a used Gemini unit.
SOURCES:
http://www.beginnerdj.com/top-dj-cd-turntables
http://www.workingdj.com/2009/06/25/stanton-314/
http://www.djbooth.net/index/dj-equipment/review/gemini-cdj-600/